Custom Mobile Push Notifications available for cTrader brokers
Sep 30, 2022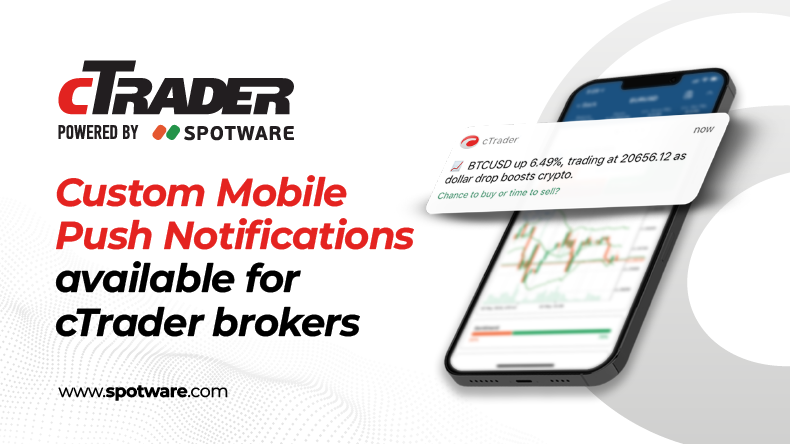 Once again, Spotware shakes up the financial industry by introducing Custom Push Notifications for its cTrader mobile apps and offering its clients a new competitive advantage. Custom Push Notifications allow brokers to send push notifications on traders' mobile apps directly from cBroker, enhancing the user's experience and boosting the engagement rate of traders.
These notifications can be filtered by group and language, allowing brokers to better target their audience, and they allow for deep linking as well, enabling trader actions in fewer steps. This feature helps brokers to increase revenue, build audience relationships, and get users back into the mobile app, by sending real-time updates about market news, trending trading symbols, or newly-launched promotions for their traders.
There are a plethora of benefits when using cTrader's push notifications. Brokers can reach users whenever they want, through the immediate distribution of news, announcements, trading stimuli and other engaging content, helping them to stand out from the competition. Unlike social media where users' feeds are flooded with brand messaging and distracting posts, push notifications are direct, helping brokers build more personal relationships with their users.
Another benefit of push notifications is that brokers can engage their users with highly curated content, by alerting them about upcoming events, special promotions and updates, resulting in an increase in brand awareness, customer retention, and conversion rates without any extra marketing budget.
William Aweida, the Business Development Manager at Spotware, said. "Push Notifications are undoubtedly an effective and free marketing communication channel for brokers and what sets this apart from other marketing methods is that everyone has their mobile within their reach at any given time. On top of that, the feature is not restricted to marketing and promotional purposes only. It can be used to deliver useful information, market alerts, industry news and whatever a broker wants to inform the traders about".
Mobile Push Notifications are an excellent way to boost in-app conversion rates, lifetime value, and most importantly revenue as they provide guaranteed impressions since users are sure to see these notifications popping up on their mobile screens.