FXStreet Economic Calendar on cTrader: A Trading Benefit Guide
Jun 26, 2019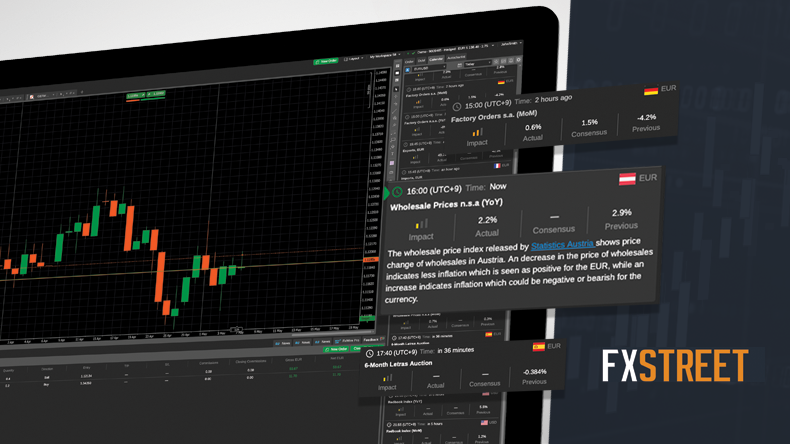 In an effort to deliver a consistent and positive trader experience, we at Spotware decided to issue a guide, highlighting the full scope of FXStreet Economic Calendar integration benefits.
The Economic Calendar can be located on the right-hand side of the cTrader Web platform by clicking on the "Calendar" tab. Calendar data is displayed in chronological order, divided by day.
Why FXStreet Economic Calendar?
In a pool of fundamental analysis tools, FXStreet Economic Calendar stands out as a market leader due to its legitimacy, reliability and full platform integration option. It's rightfully referred to as one of the most complete, accurate and timely economic calendars on the Forex arena- a top choice for both, brokers and traders.
1,000 events from 42 countries
Automated refresh
Countdown of time left before event/data release
Customizable local time
User-friendly interface
Why FXStreet Calendar on cTrader?
Calendar with full cTrader platform integration and seamless embedment
Traders informed on events in particular markets of their interest
Content-rich trading journey directly on the platform
Trader noise exposure reduction in online content search
Attribution to more trader ideas
One more step towards an all-in-one trading experience
How to Read FXStreet Economic Calendar?
Overview
Calendar data is displayed in chronological order, divided by day. Generally speaking, the information one encounters in an economic calendar can be separated into events and data releases. Events include occurrences, such as Federal Reserve (Fed) Officials' Speeches or ECB (European Central Bank) Meetings, whereas data includes economic reports, such as GDP (Gross Domestic Product), NFP (Nonfarm Payrolls), Unemployment Rate and more.
Both, events and data releases, have an impact on financial markets, and are hence used by traders to take more informed decisions. The calendar is automatically updated to ensure traders stays on track of the market situation.
Released data and past events in the FXStreet Economic Calendar on cTrader Web contain the time of release/event occurrence (i.e: 2 hours ago), whereas future data and events contain the time left until release/event occurrence (i.e: in 37 minutes). Past events and released data have a grey name color, whereas future events and releases - black, as you can see in the screenshot below.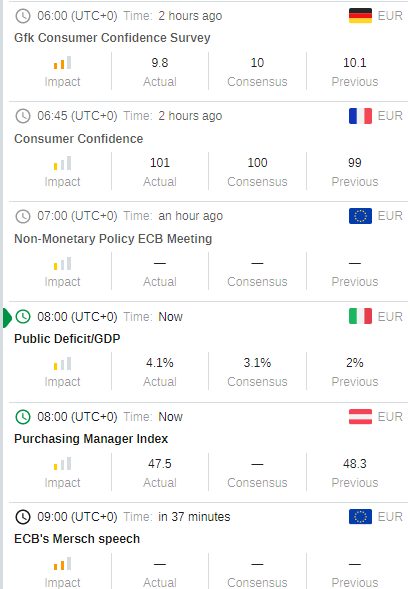 Data/Event Description
Each data/event field is marked by name of the data/event (i.e. Senfix Investor Confidence). Additional information is made available by clicking on the field in question, to expand the event/data release as shown below.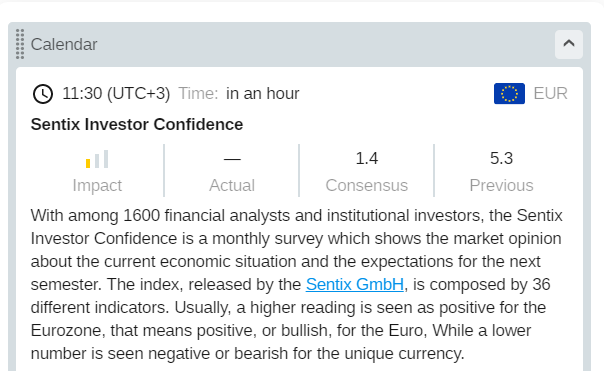 Currency and Country
Flag icons in the right-hand column indicate the country of data release, as well as its currency symbol (i.e: Spain: EUR)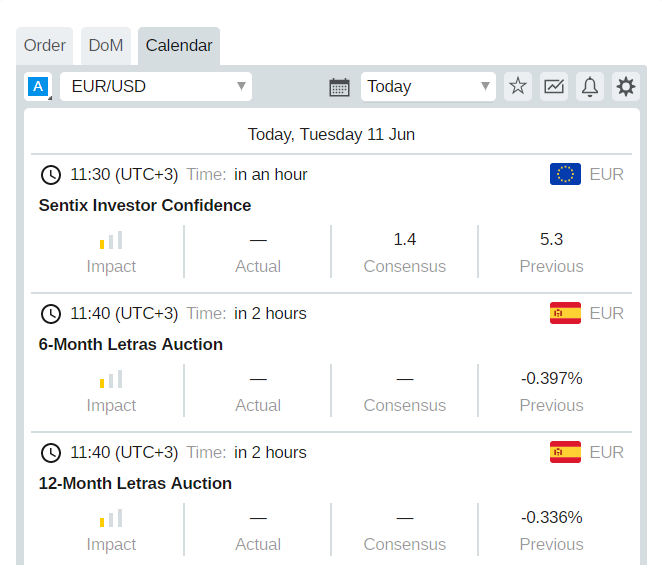 Market Impact
Volatility - an indicator of the expected impact of data on market movements, can be observed in the "Impact" column. Red and long bars indicate high expected impact, yellow and short bars - low, whereas orange - in between.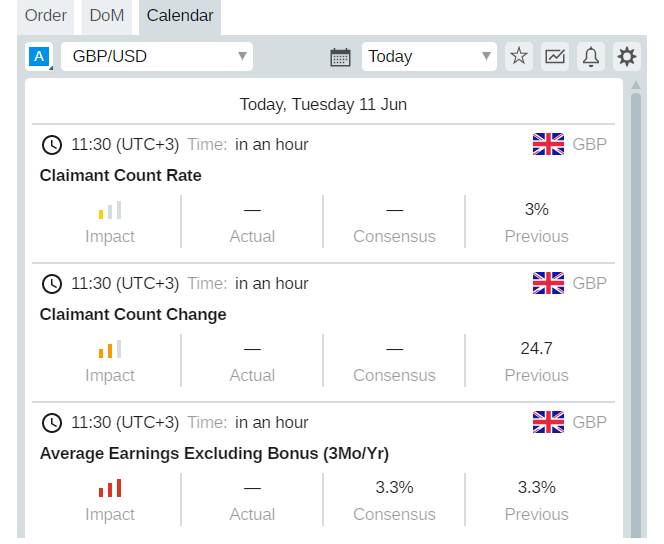 Actual/Consensus/Previous Data
The "Actual" number column displays real data upon release, and is located on the right of the "Impact" column.
The "Consensus" number is the general forecast of experts on the outcome of the number.
The "Previous" data column, on the other hand, refers to the data in the last release (varying by frequency of data releases per event: last month, last quarter, last year etc.)