cTrader for Windows and Web Updates, May 2014
May 01, 2014
cTrader Intro Video
We have new additions on cTrader Video tab the "cTrader Introduction" video and the "Learn to Trade Forex series". Click on tabs to select what to watch. You can use YouTube subtitles to see the videos in your language.
Integration with Visual Studio
Now cAlgo is not the only way to edit your cBots and custom indicators. In Microsoft Visual Studio you can edit, build and debug your cBots and custom indicators. Use your favorite tool to develop your trading strategies.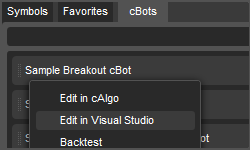 Links
In the new Links menu located in cTrader Preferences, you will find all the Links you need related to cTrader, specifically our other applications, cTDN, our Social Media, our Widgets and Partners.